All
Craftsmanship
DIY
Materials
Price
Quality
Time Frame
How long will it take to restore my furniture?
Each project is unique from the next, making it difficult to give exact timelines. Each project that comes in the shop is completed on a "first come, first served" basis. We try to give approximate timelines based on the current projects in our shop, but we cannot guarantee these are accurate!
Can loose or broken chairs be repaired as strong as new?
Yes. In most scenarios it will be better than new
What is wood furniture veneer, and can it be repaired?
Wood furniture veneer is a thin layer of beautiful wood grain glued tightly to wood that has different properties. Very fine dining tables and cabinetry are constructed with wood veneers. They can be repaired, and the patina of the adjacent wood will be matched by our craftsmen using an assortment of custom blended colors and finishing techniques.
Can you repair broken or missing pieces?
We are able to repair and/or reproduce any part or section of a piece of furniture made of wood. We love repairs and do much of the repair work for your favorite furniture stores.
Will my furniture be too shiny after I have it refinished?
We quote each item to be refinished to the original color and sheen. 95% of furniture today is finished with a satin sheen. Satin is recommended as it is the most practical for everyday use. Unless specified otherwise, your piece will be restored using pre-catalyzed furniture grade lacquer with UV protectant to ensure the color stays just for years to come.
What if my piece is missing hardware?
We've got you covered. If you are looking to replace missing hardware, we can replicate original hardware, or you can purchase new hardware in shop.
Do you work with glass?
Yes, we can replace both flat and curved glass in your items. We can also install glass tops for newly refinished items before delivering them home. Please ask for details.
Do you have to fully refinish every item?
No. We do partial restorations daily (tops only, doors only, etc.) In many cases, we can restore them by using a less extensive process called a finish renewal. This process is great for pieces that don't need complete restoration…just a "freshening up".
Can you match existing finishes?
We can get very, very close – as close as our experience, artistic eye, and the capabilities of the materials will allow. In most cases, customers tell us it looks exactly the same e to them. For all but a small number of customers, we equal or exceed expectations.
Do you have samples of completed work?
Yes, our sprawling 10,000sq. ft facility is filled with items coming and going each day. Call for an appointment to see examples of completed items. You can also visit our Instagram and Facebook pages that are routinely updated with completed projects.
Is it possible to refinish my dining table top without refinishing the legs, matching chairs, and/or buffet?
Yes. This is one of the most common projects brought to us. Don't forget to ask about the warranty on your table once it has been restored.
What process is used to strip my furniture?
We use different methods in the shop based on the current state and construction of your furniture. One method is using a paste-based stripper that will release the existing finish allowing our team to preserve thin veneers that may have been used during construction. The other method is using our commercial stripping facility. This process is called the flow-over process. Our team suits up with masks and protective body suits and uses a brush that is continually being supplied with a commercial stripping chemical that flows over your piece. Once stripped, the old finish is collected and sent off for HAZMAT disposal and your furniture is run through a process that cleans any remaining chemical off the bare wood.
Can I supply my own fabric?
Yes, you may supply your own fabric. However, a yard cutting fee will apply to all fabrics provided by customers. Designers – reach out before scheduling work to discuss the trade pricing.
What other costs are incurred when upholstering a piece of furniture besides fabric?
Some of the other costs include foam, specialty thread, buttons, etc. Any work on the wooden parts of the piece, such as regluing, staining, and cleaning the wood adds to the cost. Spring tying, double welt, and skirts are added onto the estimate. Tax is required for all fabrics and materials purchased for the piece. Please note: New dacron is included on every job where necessary.
When should I reupholster versus buying new?
If your current furniture has a good frame, is comfortable and you like the style, then reupholstering may be your best choice. The finished product may cost as much as a moderately priced piece of new furniture, but you'll have a customized piece that is unique to you and your family.
What kind of fabric should I look for?
This depends on your needs. If you have heavy wear and tear on your furniture, then a good quality fabric that is durable will wear well and last longer. Cotton will not wear well in heavy traffic applications. There is no right or wrong way to choose the fabric. It's all about your personal style and preference. Some questions to ask yourself:
Do you prefer patterns?
What colors make you happy?
What textures feel right to you?
How durable do you need the fabric to be?
Note: In general, mid-tone fabrics with patterns show less dirt than a light color fabric. Dark colors will show dust and lint more easily, while solid color fabric with no texture will show stains more easily.
What is railroad fabric?
Conventional upholstery fabric has the pattern going up the fabric roll. In other words, it runs the length of the fabric, not the width. Railroaded fabric has the pattern running on the width, that is sideways up the roll.
My cushions are out of shape and not as comfortable as I would like them to be. What can I do?
We frequently have customers telling us how the fabric on their furniture looks good, but the cushions are not holding their shape, and are no longer comfortable. Replacing your existing cushions is one of the easiest ways to bring life back to your furniture. There are a couple of options for replacing or repairing your cushions. High-density foam core replacements are suggested. If your cushions aren't in that bad of shape but you would like to extend their useful life, we can wrap them in Dacron fiber to bring back the new look and comfort of an older cushion?
When sitting on my sofa, I tend to sink lower than normal. What can I do?
This generally means the webbing has gone bad and needs replacement or the springs have broken loose from the bottom of the sofa. In rare cases, the springs lose their "spring". We can add no- webbing to your sofa to eliminate this problem.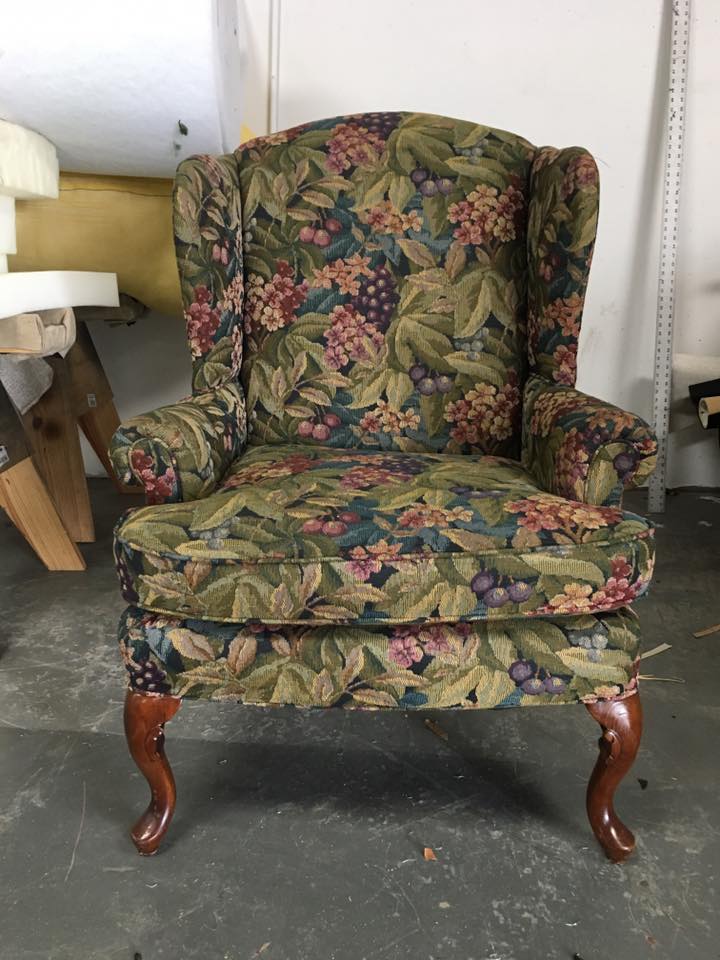 Receive a Complimentary Furniture Repair quote